.....In 1962, the Indy and her crew, myself included, paid visit to many beautiful ports, among them the French Riviera. One day, while in Nice, France, my buddy, Gerry Falgout and I were walking along the beach. I looked out across the sand and thought I saw Connie Francis sitting on the beach! I told Gerry, and he said that I was nuts, but I insisted that it was her. I proceeded to stroll right on over to her chair and I asked if she was Connie Francis. She said, "Yes I am, how did you know?" I told her that as popular as she was it would be impossible to miss her.
.....I asked Connie if I could get a picture taken with her and she said that would be nice. So I sat down in the chair right beside her on the French Riviera and had my picture taken with Connie Francis!! What a way to live, huh? We talked awhile and then she said, "How about you two boys coming over to my place tomorrow for spaghetti dinner? My mother is here while I'm making this movie (Follow The Boys) and we are staying in a trailer in back of the filming area. This was one blond haired boy that was ready to go full-blown Italian!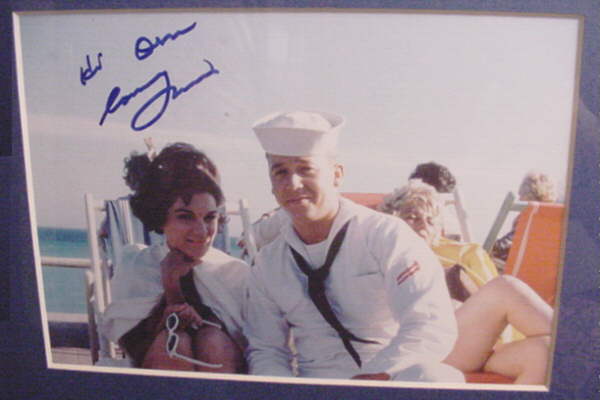 .....When I got back on ship the next day, I went through all the "chit sheets" with the division to get the approval to have an extra day off for this special occasion. The last officer that I needed to sign the "chit sheets" was not convinced that my request was legitimate. In fact he said, and I quote, "I don't believe that crock of bull". He would not sign for me to get the day off, so I never did get to have dinner with Connie Francis. But I got her autograph, a picture with her and an invitation to dinner - even if I didn't get to go!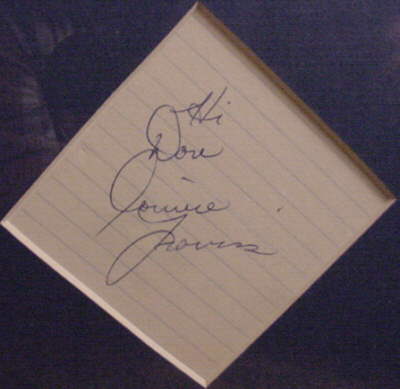 .....Well, lets turn the clock forward about 40 years to the year 2002. Connie Francis was giving a concert in Greensburg, PA - not too far from my home. My wife, Donna, and I decided to go. Then an idea came to me. If I would bring that old picture of Connie Francis and me on the beach, I wonder if she would sign it. Well, I figured it was worth a shot. I bought a rose for her too - just for a little extra incentive.
.....We arrived at the theater about a half-hour before the show started. There was no one around, so I walked up to the locked theater door and knocked on the window. A man came to the door and said he was Connie Francis' manager. I explained to him that I had this picture from 40 years ago that I would like to have it signed by Ms. Francis. He told me to wait there for about ten minutes and he would be back. He came back with two back-stage passes for my wife and I and said, "As soon as the show is over, you meet me down by the stage and I will take you back to meet Connie." We were thrilled.
.....We had a really nice visit with Connie and she signed my 40-year-old photo. Then I gave her the rose and a copy of the original photo that I brought for her. My wife and I had a few new pictures taken with Connie to put next to the old one. Connie is a special person and I'm glad I got to meet her again after all these years..