---
---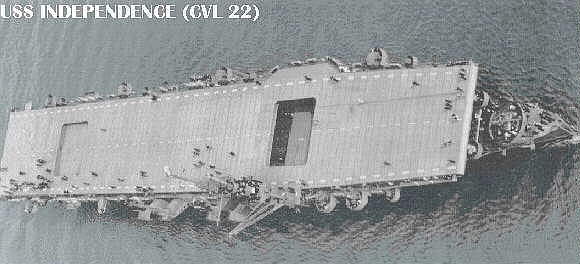 " US Navy Photo "

---
---
OFFICE OF THE CHIEF OF NAVAL OPERATIONS
DIVISION OF NAVAL HISTORY
AIR HISTORY SECTION

HISTORY OF THE INDEPENDENCE

There have been five ships of the Navy named INDEPENDENCE. The fourth INDEPENDENCE (CVL 22) was the first of several aircraft carriers to be converted from cruiser hulls. Her keel was laid at the New York Shipbuilding Corporation, Camden, New Jersey on 1 May 1941 as the AMSTERDAM (CL 59), but on 12 February 1942 her name was changed to the INDEPENDENCE (CVL 22). When she was 1aunched on 22 August Mrs. Rawleigh Warner, wife of the President of the Pure Oil Company, acted as sponsor. She was commissioned on 14 January 1943 under command of Captain George R. Fairlamb, Jr., with the following: Length 622 feet 6 inches, beam 71 feet 6 inches, standard displacement 11,000 tons, draft 26 feet, trial speed 31.6 knots, complement 159 officers and 1,410 men.

By mid-June the INDEPENDENCE had completed her shakedown cruise off Trinidad and sailed for San Francisco arriving 3 July 1943. She sailed for Pearl Harbor on 14 July. After weeks of training exercises there she sailed with the ESSEX and YORKTOWN on 22 August to strike Marcus Island on 1 September, destroying 70% of the installations there, returning to Pearl Harbor on the 7th. The ship's former executive officer, Commander Rudolph L. Johnson assumed command on 27 September on the departure of Captain Fairlamb . On 29 September she sailed with Task Force 44 to strike Wake Island 5-6 October returning to Pearl Harbor 11 October. She anchored in Pallikulo Bay, Espiritu Santo, New Hebrides on 5 November and on 11 November, operating with the ESSEX and BUNKER HILL, hit Rabaul . While the second strike group was out, approximately 120 Japanese aircraft attacked in three waves. When it was over the INDEPENDENCE had chalked up her first six planes shot down.

While operating as part of the covering force for the amphibious forces at Tarawa 18-20 November she attacked Japanese installations there. At 1800 November 20th, from 15-20 "Bettys" attacked, coming in low over the water. During the ensuing action, six were repelled but eventually the ship was hit in the starboard quarter by three torpedoes. Only the one in the after mess deck exploded. Casualties were kept light and the ship was able to withdraw under her own power because of the superb conduct of the engineering and damage control crews. As a result of this action , 14 men were recommended for the Distinguished Service Medal and Captain Johnson received the Silver Star.

On 7 December she sailed from Funafuti, Ellis Islands for San Francisco, arriving 2 January 1944 for repairs. On 3 July she was back at Pearl Harbor for operational training of the first night air group and to become the first night operating carrier. Captain Edward C. Ewen relieved Captain Johnson on 26 July 1944. She sailed for Eniwetok on 17 August to continue this training and from 6-22 September took part in the capture and occupation of Southern Palau and strikes in the Philippines. Night operations began on 9 September with a two-day raid on Mindanao followed by other raids on the Visayans on 12-14 September. Clark's Field was hit on the 22nd. She was back from Saipan on 10 October to support the Leyte operation with strikes on Nansei Shoto 10 October, Formosa 12-14 October, the Visayas 20-22 October and Luzon 24October. The Japanese decided to contest the Leyte landings with the remnant of their once powerful fleet in the Battle of Leyte Gulf. Our submarines had sunk 2 heavy cruisers on 23 October and alerted Halsey's forces. Reports of strikes from three fast carrier groups convinced Halsey the Japanese battleship force had been too damaged to press their attack and his heavy cruisers withdrew to meet the threat of Japanese carriers to the northeast. Meanwhileat Surigao Strait our surface force annihilated the southern Japanese force under Admirals Nishimuraand Shima. At San Bernardino Strait, their battleship force had reversed course and attacked the 16 slow escort carriers which had been supporting the landing. Fortunately the Japanese feared a trap and withdrew aftersinking 2 CVEs and 3 DDs. But the Japanese Fleet was ended as a fighting unit having lost 4 carri ers, 3 battleships, 10 cruisers, 9 destroyers, 3 submarines and 350 aircraft. The INDEPENDENCE continued night strikes on Luzon 25 and 29-31 October, and 1 November. Strikes on Luzon and other enemy strongholds in the Philippines continued from 14 November to 16 December. After a brief respite at Ulithi 24-29 December, she was back to support the landings on Luzon 6-22 January 1945, making strikes also on Formosa, the Ryukus, Indo-China, Hainan and the China Coast.

On 30 January she sailed from Ulithi for Pearl Harbor for minor Navy Yard overhaul from 11 February to 4 March. Captain Nolan M. Kindell assumed command on 11 February. When she left Ulithi on 14 March a 62-day operation began in support of the Okinawa operation. After a 10 day rest at Ulithi she was back at Okinawa 24 May for 35 night strikes, sweeps, patrol and support missions over Kyushu and the Nansie Shoto preparatory to the invasion and then targets were added in Okinawa until 10 June. From 13 June - 1 July she was in San Pedro Bay, Leyte. Then from 9 July - 2 September she took part in the THIRD Fleet attacks against the Japanese homeland. During this period, Air Group 27 was credited with the sinking of the cruiser OYODO. Her group continued surveillance flights of the Japanese mainland, searches for prisoner of war camps and were finally assigned the duty of covering the landings on the Japanese mainland.

On 22 September she departed Tokyo for San Francisco stopping briefly at Saipan and Guam enroute, arriving San Francisco 3l October. She began "Magic Carpet" runs on 15 November to Guam, and Iwo Jima returning on her last run to San Francisco on 28 January 1946. She was assigned as one of the target vessels for the Atomic bomb tests at Bikini and sailed on 2 May for Pearl Harbor to receive final instructions. On 29 May she arrived at Bikini for the tests. On 1 July an Atomic air burst sank 5 ships. The INDEPENDENCE was badly wrecked by the explosion, gutted by fire and further damaged by internal explosions at her position within 11 mile of ground zero. Repairs were made to keep the surviving ships afloat and a subsurface Atomic burst on 25 July sank 9 ships but the now highly radio-activeINDEPENDENCE survived to be used in research in subsequent years. She was towed to Kwajalein 27 August and as a resultof her damage, decommissioned 28 August 1946.

She was berthed at Pearl Harbor on 2 June 1947 and at Hunters Point, San Francisco on 16 June. Radiological studies continued until 1951 when she was sunk off the California coast in special tests of new aerial and undersea weapons on 29 January. She was striken from the Navy list on 27 February 1951.
---
---
Independence earned eight battle stars and other awards for operations listed below;
---
---
1 star
Pacific Raids 1943
Marcus Island Raid: 31 Aug 1943
1 star
Treasury-Bougainville Operation
Rabaul Strike: 11 Nov 1943
1 star
Gilbert Islands Operation: 19-20 Nov 1943
1 star
Western Caroline Islands Operation
Capture and Occupation of Southern
Palau Islands: 6 Sept - 14 Oct 1944
Assults on Philippine Islands: 9-24 Sept 1944
1 star
Leyte Operation:
Third Fleet Supporations Okinawa
Attack: 10 Oct 1944
Norther Luzon and Formosa
Attacks: 13-14 Oct 1944
Battle of Surigao Strait: 24-26 Oct 1944
Visayas Attacks: 21 Oct 1944
Luzon Attacks: 15 Oct ; 17-19 Oct ;
5-6 Nov ; 19-25 Nov ; 14-16 Dec ; 1944
1 star
Luzon Operation:
Formosa Attacks: 3-4 Jan ; 8 Jan ;
15 Jan ; 21 Jan ;1945
Luzon Attacks: 6-7 Jan 1945
China Coast Attacks: 12 Jan ; 16 Jan 1945
Nansei Shoto Attack: 22 Jan 1945
1 star
Okinawa Gunto Operation:
5th and 3rd Fleet Raids in support
of Okinawa Gunto Operation 17 Mar - 11 Jun 1945
1 star
Third Fleet Operatiuons Against Japan:
10 Jul - 15 Aug 1945
Navy Occupation Service Medal (Asia)
2-23 Sep ; 7 -9 Oct ; 1 - 4 Dec 1945
---
---
---
---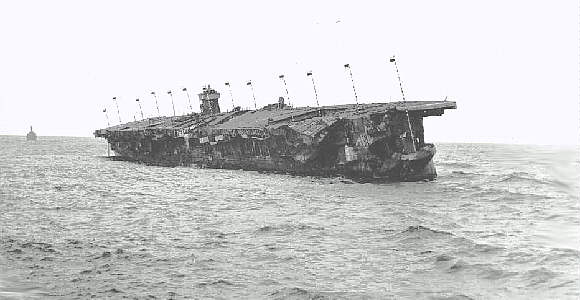 " US Navy Photo "

---
---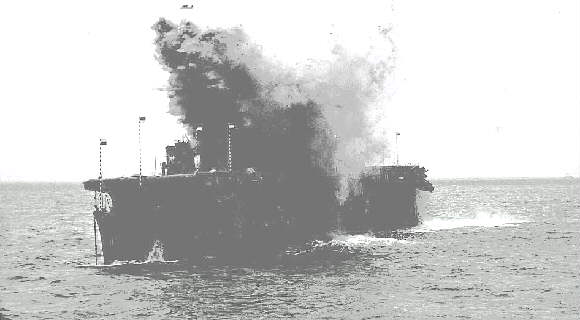 " US Navy Photo "

---
---
---
---
---
---